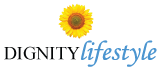 Many thanks for your kind words on the demise of my mother.

I also take this opportunity of thanking the entire managment and staff of Dignity Lifestyle for the excellent service and care provided to my mother during the last 4 years of her life. We believe, she was in very safe hands of particilarly people like Manasi madam, Kailash, Suverna, Naina, Aslam Bhai, Dr.Gajanan as well as earlier doctors and host of other support staff who ensured largely a tension-free life for us and our families.

A very big thanks to all of you at Dignity and wish you continue to provide such excellent service to all residents in future as well.

All the best !
After visiting your dream child "Dignity Lifestyle" at Neral, on Sunday the 27th October '13, I could not resist my desire to personallypay my respect to the brilliant visualiser and creator of such a gigantic project with all possible amenities, very well planned up to the minutest detail, required for welfare & comfort of Senior citizen, exquisitely laid out and executed with high professional efficiency.

I had heard quite a lot about the activities of your organization from our friends, who are your members. Hence, to have a personal assessment, we (Myself and my better half - both nearing eighty and desirous to be a part of this august body) visited your township. Though it was a holiday, we were welcomed by your Supervisor Mr. Aslam Dongre, and immediately followed by Mr. Kailash Deshmukh. We were completely taken aback by their devotion and sincerity and desire to be helpful to outsiders like us. They not only were very courteous but left nothing within their powers to make us comfortable and feel at home. It was a real treat to meet such devoted individuals. We were shown around the entire township by Mr. Aslam, who took immense pains to explain in detail the amenities available to Sr. Citizen there and also arrange a sumptuous lunch for us. Mr. Kailash explained in detail your future projects and plans for further expansion and also arranged our transport services back to Neral Stn.
Hope all is well with you and all at Dignity. Again -- my thanks to ALL at Dignity for their care and attention. It is GOOD to see Papa faring well and to know that all of you are taking very good care of him. I appreciate your organized, thorough, attentive management and the diligent efforts of the staff.

I also really appreciated the warm welcome that other residents extended to me. Papa is in such good company! In fact, the residents were kind enough to invite me to join them for Housie and cards on Sunday. It was A LOT of fun! It is good to know that such community activities are part of life at Dignity. Again, my HEARTFELT THANKS to all of you for all you do at Dignity and your care for my father.

Best wishes,
What people say about us..